This is a "fun" page! Here are items that need to be identified or are interesting to see. If you have something you would like to contribute, please let me know and I can put it up.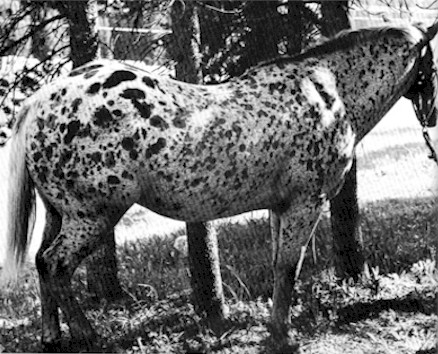 The "Breyer" Horse! My daughter brought home a book about appaloosas from her school library. In it was this photo of an appy that looks like he was attacked by a toothbrush splattering Breyer painter! Only on his rump are a few "normal" looking appy spots. We've all complained at how Breyer makes their appaloosa horses look like they are dressed in polka dots or are messy looking with splattered paint. Well, here's proof that such horses exist! I wish the photos had been in color, I would have like to see what colors he was coated in! By the various "shadings", my assumption is that he has a range of brownish/reddish/darkish spots.
What coat pattern is this? No, no! Not my daughter's coat! The horse!! LOL The camera seems to have toned down the white somewhat. He actually has more of a pinto look, except it's roaned. His legs, throatlatch, and belly are very white with some roaning of the light chestnut coloring. Is he a roan or a roaned pinto or what?

He has been identified as a Strawberry Sabino! Thanks!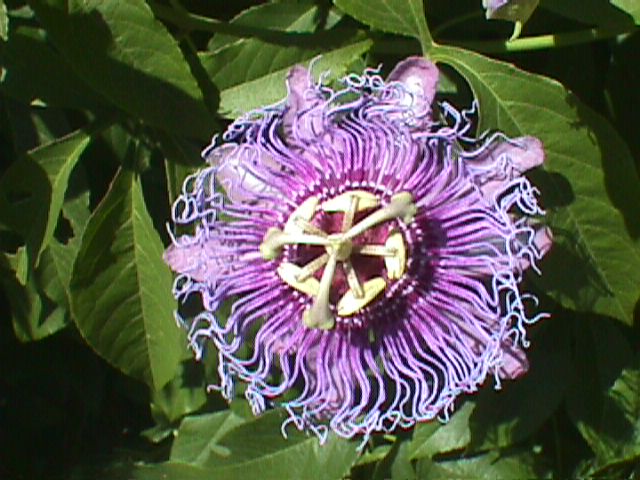 Can you identify this flower? It actually has more of a blueish tone than this photo shows. The stamen inside are a very bright yellow and are tiered in two layers. Seen from the side, the middle looks like a gridded dome arching over the center of the flower. The petals underneath the flower are part of the pod that has split opened. The whole plant seems to be a vine type plant. It covers a wooden fence and is very thick with green foliage, pods, and flowers. The fragrence is wonderful! If it's a help, this plant is located in southern Texas.
It has been identified as a Passion Flower! Thanks!

Making an English Saddle
(Resource info for miniature tack makers)
Text file for descriptions of photos
Wordperfect File
Microsoft Word File
Microsoft Write (Notepad)
These photos are from J.H.L. Shields book "To Handmake a Saddle". These are just a few of the pictures included in the book. I was lucky to acquire this book! It gives step by step instructions from start to finish on making a saddle. Although I haven't done it yet, I bought it with the idea of one day making my own model horse saddles.
Saddle Photos Zip
Compressed file containing 5 photos of a saddle being made. Photos are B/W. Anyone wishing to see more photos or more details may email me and I will send them.
A Pintaloosa! I don't remember who sent this photo to me...it was a long time ago. I have it in my reference library of pattern coated horses. I'd love to see more photos of Pintaloosa's or any other unusually patterned/colored horses. Send them if you have anything you would like to share!
Click on the photo for a larger picture

Stormy Erin
Something of interest: A pinto without white marking! This is a brown and tan pinto. The photo was sent to me a long time ago and is very interesting!!
I bought this model as a body. I took it to our live show to use as a prop. While there, many people became interested in it. Looking through our books, we could not find this color. Everyone's opinion is that it is definitely OF, not a custom. The idea being passed around is that it might be a test color. I left these photos in the large format so others can take a look and see if we can identify this Henry model. It does have a signature and date on it right in front of the male region. It says "Deb 7-91" or "Deb 7-96". Looks more like a "6", a very flat 6.

It has been identified as a custom by Deb Buckler!
The World's Largest Horse!
This is Thor. He is going into the Guinness's World Book of Records as the world's largest horse. AND HE IS STILL GROWING! He is 4 years old. A Flemish Belgian, imported. He stands 19.3 hands and the vets estimate that he will finish his growth at 22 hands!!! Please note the size of the handlers and rider as compared to his size.

Thor is part of the Knights of the Guild here in San Antonio, Texas.

8/6/06 - Updated Info

"Thor is nearly 6, standing 20 hands and weighing 2,400 pounds.

In regard to Guinness, Goliath is 19.1 and Radar is 19.3. Thor just keeps passing them all, with his little brother Max nearly the same size at only 3 years old. Even though Thor is officially taller than any known living horses, we are not submitting him for any official titles until he completely matures at about age 7. Our vets feel that he is not finished growing yet, and that the administrative procedures involved in establishing World Records are only worth while when the horse has done all the growing he's going to do. Otherwise, you're constantly having to recertify your animal against upstarts who want to challenge your record over 1/4" difference that he may surpass again in a year.

The horse professionals in the veterinary community and major shows such as the San Antonio Livestock Exposition (where Thor appears each year) know Thor's the King of Horses, but we're really not that obsessive about it. To us, he's just one of our sweet little ponies."

Knights of the Guild
The All White Pinto!
This cute horse was attending a local show and I just had to take his picture. He is an all white pinto! Since he had already been in several classes, he had sweated up a bit and you could see the skin markings showing a pinto pattern. His owner said that once he dried out, you would not be able to see the markings and he would become an all white horse. (Click on photo to see larger picture) The owner said that she did not have him as a foal but did get him at 3 years old and he was already white. The opinion of many people looking at this photos have been that he has "grayed out" over time, however the owner said that she was told by the previous owner that he was always this coloration.


Debdemer@AOL.com